The freeways around the Valley are plentiful and highly traversed.
So, the Arizona Department of Transportation staff threw a little humor into their safety messages on overhead signs. 
Doug Pacey, the assistant communications director for ADOT, said despite the witty messages, the purpose behind them is quite serious.
"The things we look for are things that are front of mind to people and what they can relate to," Pacey said.
"The whole goal is to get people to think and talk about traffic safety. Everyone knows they should wear their seatbelt, or they shouldn't speed, or they shouldn't drive drunk, but all those things keep happening.
With ADOT for more than nine years, Pacey said over 90% of crashes are caused by driver behavior — impairment, speeding, recklessness or distraction. 
"If we can come at something from a little bit of a different angle, and make people raise their eyebrow or think about it, that's what we want to do," he said. "We really want to change driver behavior with these messages."
ADOT is not the first state to utilize messages like these. The Iowa Department of Transportation uses witty messages to encourage safe driving. An ADOT employee saw those at a 2015 conference. 
He said the response has been overwhelmingly positive.
"They like seeing them," Pacey said. "I think people want to see other people — including themselves — to be reminded to make good decisions behind the wheel because we're all on the roads together. It's not just an ADOT thing; it's an all of us thing."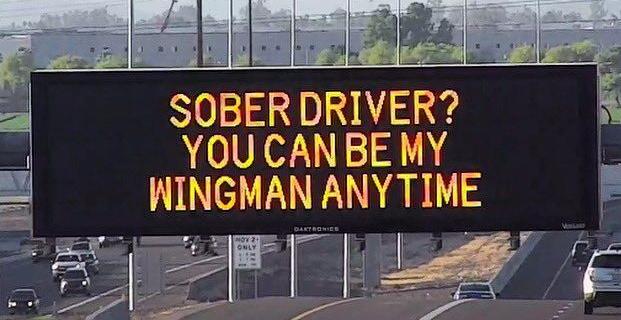 To schedule messages, ADOT utilizes an opportunities calendar with a list of holidays, sports events, movie releases and concerts. 
From there, they brainstorm, come up with three or four ideas, send them through management and choose the one that goes up. They only post at low-priority times, however.
"These nontraditional quirky safety messages are scheduled at the lowest priority," Pacey said. "So, anything else that's happening, like an active incident on the highway, or a crash that's blocking two lanes ahead, or construction related restrictions or closures, or amber, blue silver alerts, things like that.
"All of those things take precedence over the PSA messages. The PSA messages that we display are up there when nothing else would be up there."
When asked which of his signs was his favorite, Pacey thought back to the first one ADOT came out with.
Named after a 2015 New York Times guacamole recipe that included peas, ADOT's flagship sign read: "Drinking and driving goes together like peas and guac."
ADOT does its best to keep the public involved with the signs.
For the fifth year, ADOT is running a contest for submissions. From the entries, ADOT will choose 15 to 20 finalists and then have a public vote to decide the two to three favorites. Those then run on ADOT's message boards.
"People really enjoy it," Pacey said. "I think people take a little bit of pride in it. And when I say people, I mean, obviously we do it a lot. But I think the public takes a bit of pride in it."