Trapper's Sushi started as a small, single restaurant with a creative owner and chef dedicated to good service and even better food.
Now, the restaurant is opening its 14th location nationwide and its third in Arizona with the grand opening of Trapper's Sushi in the Anthem Crossroads on June 6.
"We are so excited to be opening our Anthem location. It is the perfect place for Trapper's Sushi's distinctive brand of great jobs, fantastic food and outstanding customer service," CEO Trapper O'Keeffe said.
Restaurants at Anthem Crossroads range from burgers and barbecue to Mexican, and now Trapper's Sushi is adding a new cuisine to the area. The Anthem Crossroads location will be the franchise's third in Arizona, with restaurants in Avondale and Downtown Phoenix as well.
Glen Sears, marketing coordinator, said the Anthem Trapper's location features an all-you-can-eat sushi bar, a full bar with signature cocktails, a family-friendly dining atmosphere, and mobile ordering and delivery options. Those dining in can enjoy sports and other live entertainment screening on multiple TVs.
The Trapper's menu has a large and diverse selection of signature long sushi rolls; nigiri and sashimi; appetizers; as well as vegetarian, vegan and gluten-free options. For diners who prefer cooked entrées, Trapper's offers teriyaki and tempura combos, and has a kids menu for children 10 and under. It even has dessert options like fried ice cream and a mochi ice cream flight. Trapper's also has daily specials and a happy hour.
Trapper's Sushi started out as a small shop 17 years ago, founded by Trapper O'Keeffe, and has grown exponentially.
"Our founder started as a single little sushi restaurant called Sushi Town, and it was really successful," Sears said. "People really liked the accessibility on the menu and the creativity of some of the roles. So, it was one of those situations where the business took off pretty quickly. We started expanding and rebranded the business to Trapper's Sushi, and now here we are."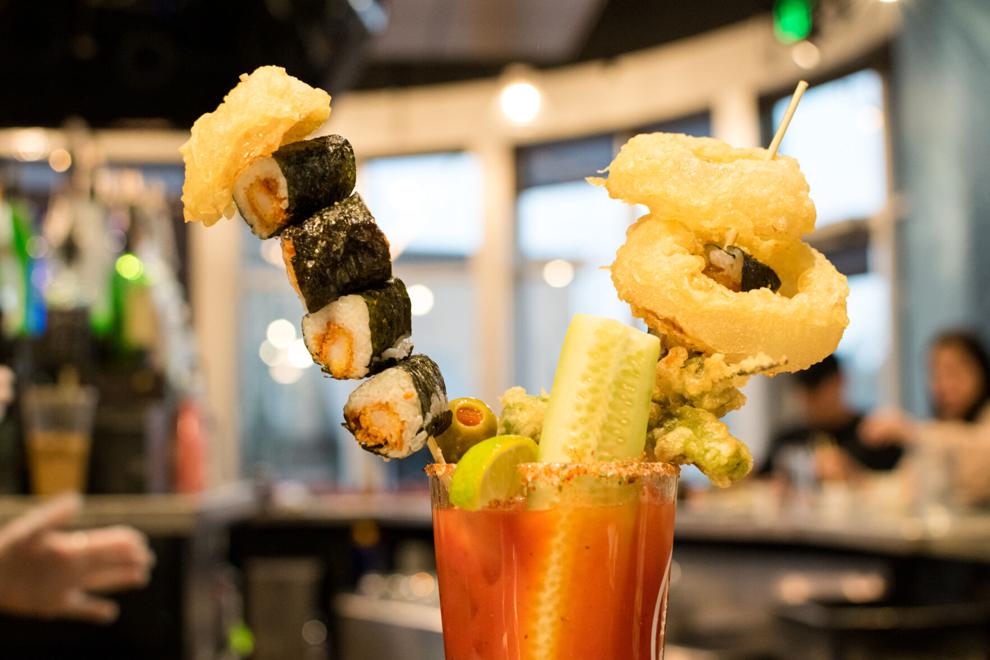 Most of Trapper's restaurants are in Washington, but Sears said it expanded to Arizona, in part, just because Trapper wanted to move here himself. Trapper and the CTO both live in the greater Phoenix area now and have plans to continue expanding in the area.
"We've been in Arizona for about two years now, and it's going really well," Sears said. "I think part of the reason we're continuing to expand in Arizona is that we've gotten a good response from our customers. We want to keep expanding into places like Anthem, where there's a lot of opportunity and people seem really excited about this coming."
He added that people were drawn to the original Sushi Town because of its creative menu entirely created by Trapper himself. His creativity led to inventive combinations, like the Mt. Si roll ($14.50) with smoked salmon, apple and cream cheese topped with avocado and sweet chili sauce. Of course, the basic sushi favorites like rainbow, California and spicy crab rolls are available as well.
Sears said the restaurant's most popular menu item is by far the Bonney Lake ($15.50), a fried crystal shrimp roll with cream cheese that is covered with spicy crab, teriyaki and hot sauce. However, with a five-page menu, Sears added that everyone has their own favorites that they gravitate toward.
"What's cool about Trapper's is that it's sushi for everybody," Sears said. "There are tons of options, and it's accessible in a way that some super high-end luxury sushi restaurants (aren't). We're very different from that. We want the whole family to come. We want everybody to have a good time and everybody to have something they want to eat."
Trapper's Sushi 
39510 W. Daisy Mountain Drive
623-254-4774